BR-VT College of Engineering and Technology: Orders are available, graduates have jobs right away
The model of training to order of Ba Ria – Vung Tau College of Engineering and Technology (BCTECH) is no longer strange with the close connection of three parties: School – Learners – Enterprise, taking learners as their work. at the center, the interests of the learners come first. Therefore, every year more than 1,000 students who graduate from the school have jobs immediately.
"Hot" jobs – Supply is not enough Demand
According to data from Employment Service Center – Department of Labour, Invalids and Social Affairs of Ba Ria – Vung Tau province, the recruitment demand of enterprises in 2020 is about 21,538 thousand people. In particular, the demand for trained and skilled human resources in the "hot" industries and occupations in Mechanical – Automation, Electronics – Mechatronics, Electrical – Refrigeration – Industrial Electrical is still in supply is not enough demand.
To solve the "thirst" for human resources mentioned above, Ba Ria – Vung Tau College of Engineering and Technology has been and continues to focus on enrollment and training in key occupations, in order to supply the market. labor market of enterprises in the province, as well as domestic and foreign markets.
Mr. Vo Van Thuan – Vice Principal of the school said: "In the 2021 enrollment season, the school's total enrollment target is 1,470 students in 18 majors and occupations at intermediate and college levels. Most of the fields and professions of the school are in great demand for recruitment. The key groups and professions that the school is training are Mechanics (Mold making, Metal cutting, Welding, Automotive technology), Electrical (Industrial electricity, Air conditioning, and Air conditioning engineering. , Mechatronics), Information technology, Food processing techniques. Which, the Mechanical-Electrical industry group includes 900 indicators, accounting for 61.2% of the total enrollment; The group of Information Technology occupations and industries includes 295 targets, accounting for 20.1% of the total enrollment targets.
Especially, this number of enrollment quotas already has orders to receive outputs from businesses after graduation, so students only need to study and will definitely have a job right after graduation.".
Training Standard by Order
In recent years, based on the recruitment needs of agencies and businesses in the province, the Provincial People's Committee has assigned the Department of Labor, War Invalids, and Social Affairs to determine the target and sign an "order" contract with the school. Thereby, schools and enterprises cooperate in training, ensuring the quality requirements of graduates who must meet the output standards of vocational skills, foreign languages, and informatics, meeting the requirements of enterprises. Karma. These requirements are specified in the training contract with each specific industry or profession.
Mr. Le Huu Khuong, Employee of Quoc Huy Refrigeration Mechanics Trading Service Co., Ltd – Phu My Town, Alumni of Refrigeration profession shared: "I feel that my decision is right because this place has a complete system of facilities, which is practiced like the working environment at an actual enterprise. That is a favorable condition to integrate well with the labor market and meet the requirements of employers."
Human resource training is closely linked to the needs of enterprises, schools and enterprises cooperate in training, in which enterprises play an important role, directly participating in the process of training and assessing students. As for students, they have the advantage of being able to practice on modern machinery and equipment of the enterprise and are recruited by enterprises right after graduation without having to re-train.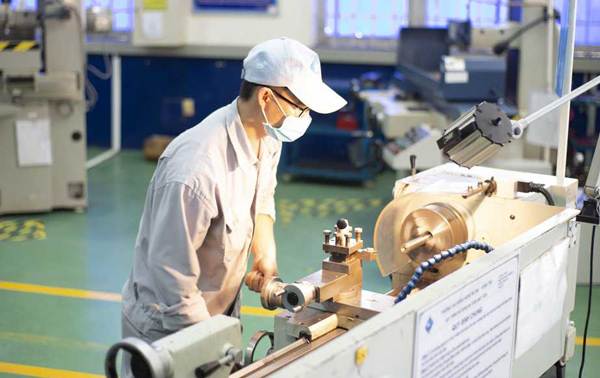 BCTECH students practice mold making.
Over the years, Ba Ria – Vung Tau College of Engineering and Technology has trained thousands of students in this method, in line with the expectations of businesses. In 2020, the school will train 600 workers with intermediate and college degrees in the fields of Electrical, Mechanical, Accounting, and Information Technology for Kraft of Asia Paperboard & Packaging Company (100% invested capital). of Japan under the Marubeni Group of Japan), has a factory located in Phu My 3 Intensive Industrial Park – Phu My town… Besides, the school organizes many short-term courses every year to train human resources under contract orders. products of companies, enterprises inside and outside the province.
Ba Ria – Vung Tau College of Engineering and Technology also signed a cooperation agreement with Eshuhai Co., Ltd. under the "Japanese Jobs" program. During the apprenticeship at the school, students are trained in the Japanese language and Japanese culture, so that after graduation, the school's students will have a level of vocational skills and soft skills that can be adapted to the working environment in the land. Japan.
On average, each year, the school has about 20 students eligible to participate in the internship program in Japan, they work in Japan for 3 years with a salary of 28 to 35 million VND/month (not including overtime. ). After finishing the internship program, employees can continue to work in Japan or return to Vietnam and be introduced to work at Japanese enterprises in Vietnam.
Wherever "out of the oven" goes, it's always there
As a province in the southern key economic region, Ba Ria – Vung Tau has many industrial zones, especially hundreds of projects and factories operating in the fields of Mechanical Engineering, Automation, Metal Cutting, Information technology… The demand for human resources in these industries is huge, with tens of thousands of trained workers every year. Through the survey, the rate of graduates having jobs reached 100%.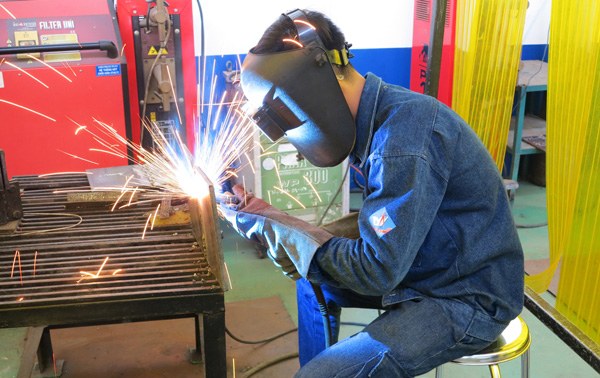 BCTECH students practice welding.
Even in the context of the Covid-19 epidemic, while human resources in many industries were disrupted, human resources in the following occupations: Mechatronics, Air conditioning, air conditioning engineering, welding, and equipment manufacturing mechanics… are always scarce and the market is open to workers. Enterprises also come to the school to recruit, so students train "out of the box" to where they are, all the time. From the beginning of 2021 until now, many businesses such as Kraft of Asia Paperboard & Packaging Co., Ltd. – Phu My 3 Industrial Park with 100% investment capital from Japan, Sonion Vietnam II Co., Ltd with 100% investment capital of In Denmark, POSCO Vietnam Co., Ltd. under POSCO Group (Korea), TPP Development and Technology Joint Stock Company… have recruited hundreds of job vacancies in the following occupations: Mechanical, Mechatronics, Manufacturing. Molding, Industrial Electrical, Automation with starting salary from 7-18 million VND/month.
Ms. Nguyen Thi Kim Tuyen, an employee of Kraft of Asia Paperboard& Packaging Company, a former student of IT profession said: "I am satisfied with my career choice, studying IT at BCTECH helps me shorten my time and get a job with the income I want."

Mr. Dang Van Khuong, Welding Alumnus, Manager of Alpha ECC company: "BCTECH Training in professional knowledge and industrial manners is very good, giving me confidence when working at the Company. Currently, I am holding the position of foreman, managing the welding field of the company.

Mr. Dau Thanh Dat, Alumnus of Automotive Technology, Technician of Toyota Vung Tau Joint Stock Company: "During my time studying at BCTECH, I was enthusiastically guided by my teachers, so my job skills were improving day by day. After graduating, I was recommended by the school to work in the right industry, with a stable job".
Source: E-magazine Career and Life